EnerBuild - Democratise the process of energy consumption optimisation by means of smart building technologies
The project aims to mitigate climate change by optimising energy consumption by means of smart building technologies and industrial IoT, as well as by monitoring the environment and air quality in the building for compliance with standards. The project envisages combined deployment of the industrial IoT platform HiPerWare by BPS International (Germany) and the intelligent maintenance management platform ('IMMP') by Infraspeak (Portugal) at a pilot building provided by the Cabildo de Gran Canaria (Spain).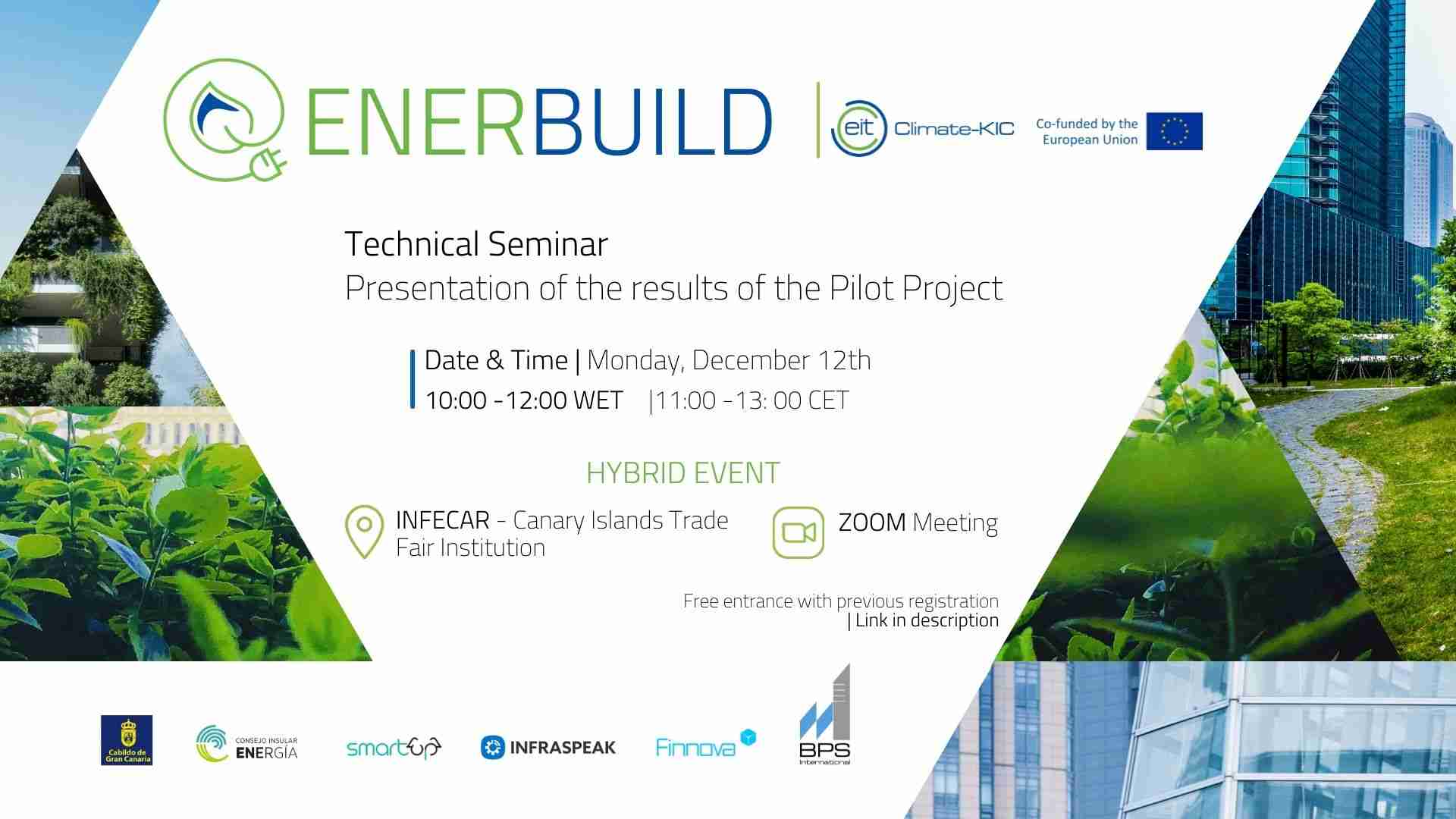 The combined solution will track and analyse utility systems of the pilot building by collecting Big Data on their operation, with the creation of a live digital twin, detecting abnormal behavior and providing data-based optimization recommendations. These recommendations will be managed by the innovative IMMP by Infraspeak, leading to significant improvement in energy consumption, reduction of equipment downtime, and optimizing operational performance.
The combination of IIoT Big Data platform HiPerWare with a leading IMMP by Infraspeak, capable of automated triggers and workflow management will create a state-of-the art energy efficiency optimisation solution for management teams in buildings, where advanced Building Management Systems (BMS) are either not installed or not economically viable.
Our project will identify best data points and frameworks to collect technical operations data, air quality and environmental data, integrate BPS analytical platform and Infraspeak's system to ensure that maintenance teams realise the impact of IoT solution and act on energy efficiency recommendations. These will be based on collected Big Data and industry expertise of BPS International.
Additionally, requirement analysis will be done to understand the triggers and procedures that building operators need and call to actions so that recommendations are guaranteed to be implemented, and efficiency improvements are controlled and monitored
About Finnova
Finnova is a Spanish-Belgian non-profit foundation based in Brussels (Belgium) with a presence in Spain in the Valencian Community, the Basque Country, Andalusia, the Community of Madrid, Extremadura and the Canary Islands. The foundation works for the promotion and development of innovation and entrepreneurship at EU level and operates through collaborations and partnerships in all EU countries. Finnova's experience in leading communication activities and dissemination of European projects is combined with a solid proven track record in business creation and business support programmes, such as accelerators, incubators and incubators. It is also committed to the training and employability of young people.
About the Energy Island Council of Gran Canaria
An organisation associated with the Cabildo de Gran Canaria that was created with the intention of promoting clean energies, stimulating different energy saving and efficiency policies in homes and economic sectors of the islands, while at the same time promoting research, development and technological innovation together with town councils and other institutions.
About SmartUp
Social Innovation Lab, located in Skopje (North Macedonia), dedicates its resources and skills to catalyse innovation in order to offer novel solutions to social problems, connecting institutions, organisations and groups to different opportunities or projects.
About EIT Climate-KIC
EIT Climate-KIC is a community dedicated to innovation and knowledge in climate action. It identifies and supports different initiatives or projects that contribute to the fight against climate change and promote decarbonisation and energy transition.
It is part of the European Institute of Innovation and Technology (EIT), an independent body of the European Union dedicated to increasing Europe's competitiveness in areas such as sustainability, economic growth and job creation.
About BPS Group
BPS Group is a German company operating in the field of technology and the real estate market. The firm has developed HiPerWare, an end-to-end platform that with the help of Big Data and the Internet of Things can perform technically complex real estate operations in real time. The data, obtained through sensors placed in buildings or equipment, are analysed in the cloud and processed against thousands of variables that allow to visualise operational processes in 3D and improve the efficiency of maintenance.
About Infraspeak
Infraspeak is the developer of an intelligent maintenance management platform, a state-of-the-art software capable of connecting to different resources such as platforms and sensors. Infraspeak has extensive experience in the implementation of its software and its connection to Internet of Things sensors, bringing its services to more than 400 customers around the world.