Education Hackathon, dubbed #EduHackathon was organized by SmartUp and UNICEF in December 2017, within the "Quality Education for Growth, Achievements and Better Future" conference. Through its core elements, such as multidisciplinary approach, attention to detail, energetic spirit, in-depth recruitment of participants and so on, the hackathon resulted with 70 participants developing 5 different ideas/early prototype solutions on 5 challenges and more than 500 conference attendees getting engaged.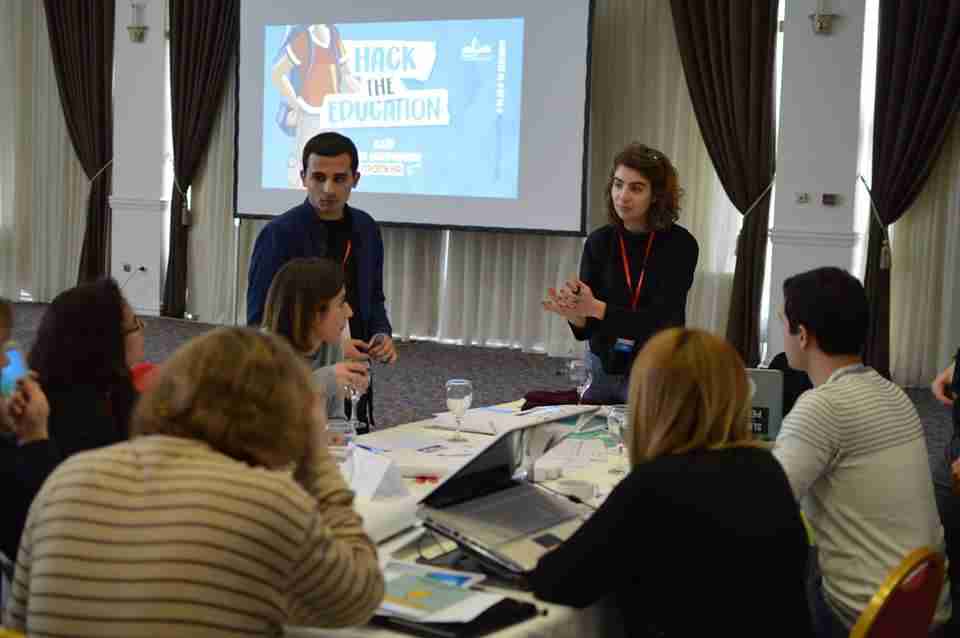 There were 5 challenges, all connected to the topic of education:
How can we introduce game based learning into preschool programs?
How to help teachers keep up with the latest trends in pedagogy?
Using technology as an incentive to improve students' achievements?
What tools and methods should teachers use to advance the development of the character and values ​​of students through formal education?
Designing a future inclusive classroom based on the principles of universal design that promotes belonging and cooperation
The program was structured around weekends and workday team work, with strong emphasis on hands on learning via the design thinking and human centered design methodology. In total the programme lasted 2 months, with developed 5 MVP solutions that were up and running and used as basis for testing within the #Inno4Edu 2.0 project (UX/UI elements etc.) and whose materials are to be used for the future web-platform. 
These solutions were the result of the work of multiple technical assistants, mentors, educators and students. In its scope, the initiative covered several project phases. 
Character blocks: Online tool for teachers for upgrading the program based on the model - Character Lego (www.nastavnik.org)
Educational website for networking of teachers (www.pedagogika.mk) and monthly newsletter Educator
Online library for educational games for preschool (platform based solution)
Application Super Class (gamified application aiming to promote physical engagement of students)
Design for the future inclusive classroom (visualized and described model of a classroom)
As a major outcome, this project based on the principle of involving individuals from multiple institutions and engaging end-users in the design process, the project itself served as a basis for the larger #Inno4Edu programme explained in details in the #Inno4Edu Camp & National Web Platform project descriptions.