Passion for social impact, a unique approach toward challenges, and determination are the three things that define our SmartUp team. We are the perfect balance between crazy ideas and strategic planning of ambitious goals.  We pour our skills and passion to solve emerging societal challenges and that is a bond that we share through every project that we work on. But it takes more than just a couple of sentences to sum up how it feels to be a part of our team, so we'll try to give you a sneak peek of our day-to-day workflow and share with you what it means to be a part of our Social Innovation Lab. Enjoy!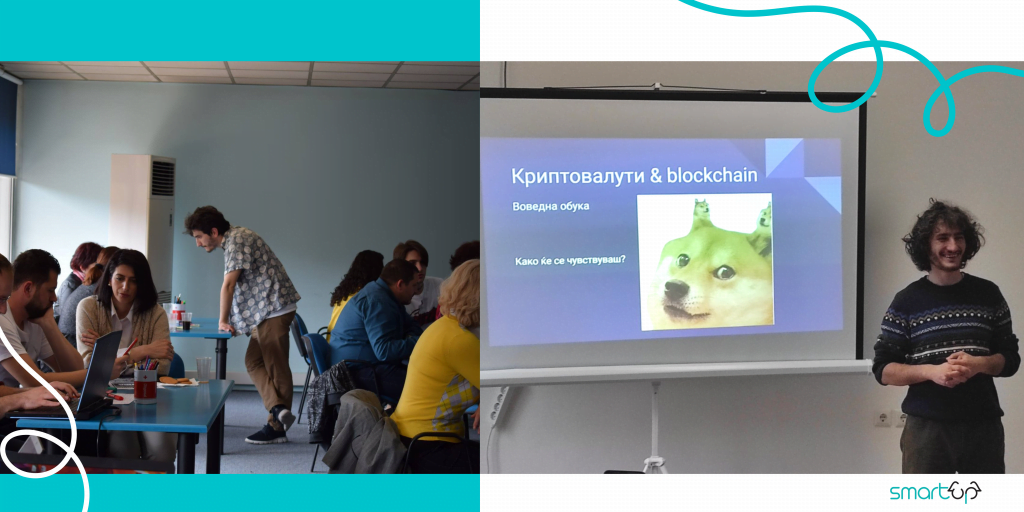 Have you ever worked in an environment where you are surrounded by constant curiosity? – Being a part of SmartUp means being a part of an office where there's a constant buzz about the next big thing. Our small office chit-chats are filled with fun facts and questions about recent trending topics. From the latest pop culture news and TikTok trends all the way to new project opportunities and updates on cryptocurrency, there's always something interesting to hear and learn from each of our colleagues.
Sometimes unexpected questions lead to new collaborations. Since all of our team members have different backgrounds and experiences we often reach out to each other for feedback on various topics. The best part is that every time you reach out to someone you get a new perspective to look into, which sometimes is an opportunity to collaborate with colleagues from different sectors. 
This is our way of learning more about each other but also a great way to challenge ourselves by exploring different approaches to one problem in order to find the best solution out there. We love seeking new creative solutions but most of all we love helping our community to be a better place for all. That's why when there is a chance to help out a teammate we always take it.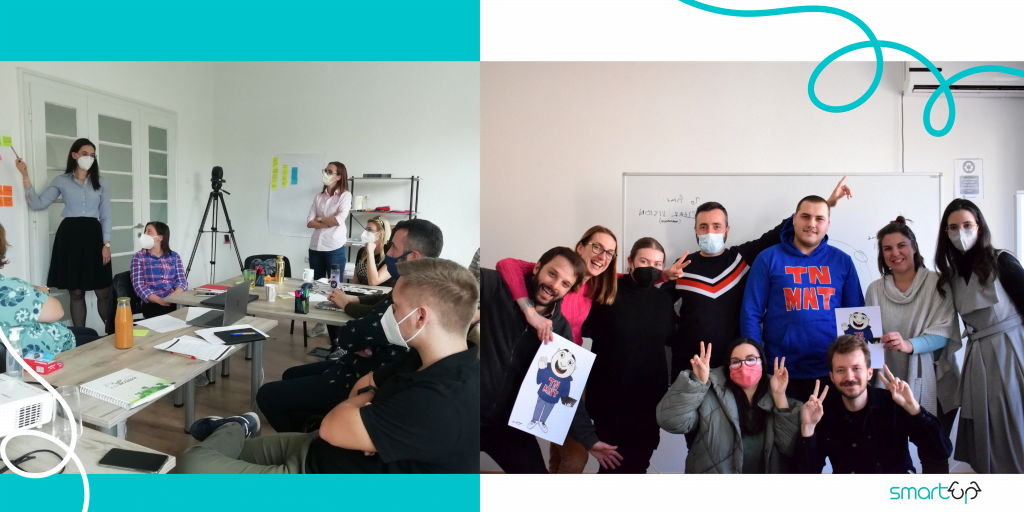 Have you ever heard of the quote: If you want to lift yourself up, lift up someone else.
As a team, we definitely stand by this. Supporting and celebrating our colleagues is something that always brings us together. Whether it is a personal or professional matter we bring attention to what's important for each of our colleagues because each and one of them is important to us. Professional and personal growth go hand in hand so creating an environment where there's a space where that's valued helps everyone gain the courage to unleash their full potential.  
We make sure to always spare time to support the new achievements of our colleagues from community involvement to professional development. Often we organize small skill-sharing workshops where we get to learn more about our personal interests and passions. Hopefully, by now you can feel the SmartUp spirit, and you feel inspired to meet our team and their uplifting energy, but till then we would like to share some of our team members' answers to the question: "What does being part of SmartUp mean to you?"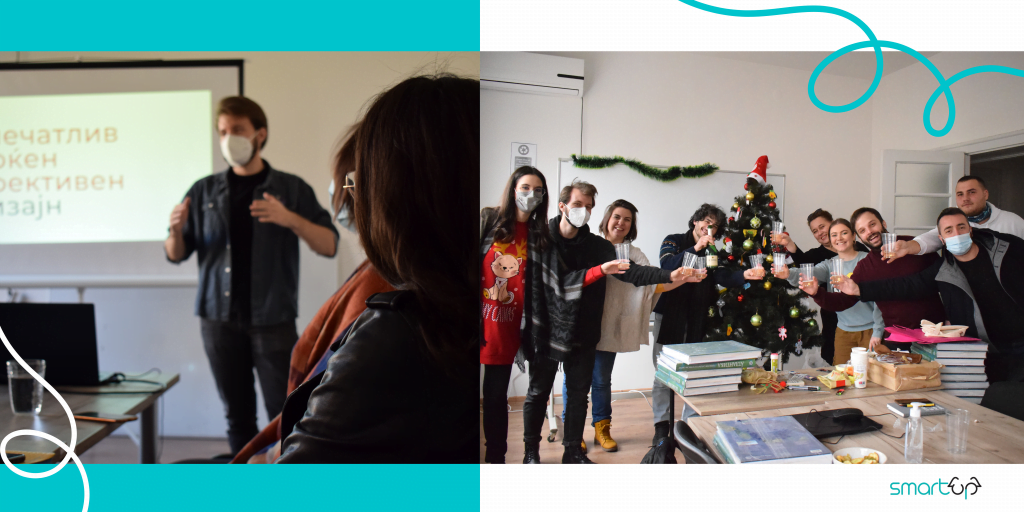 "Being part of SmartUp means being part of a diverse, yet harmonious team. Just like a family: different generations, different priorities, but all with the same goal – working hard today so we can have a better tomorrow. But for me, something that stands out is the people. Here at SmartUp is always cheerful and smiling, open to changes and suggestions. Working with such a team turns every challenge into an opportunity. I am honored to be a part of SmartUp."  – Milena Ignjatova, project manager.
"I am proud and happy to be part of such a super-cool team of professionals, wonderful enthusiasts, and real dreamers of big ideas. It makes me even happier that I can be part of the changes and innovations that are created for a better environment, society, and future. Let's continue to celebrate successes together! May our beautiful moments multiply!"
– Maja Ilioska, marketing manager.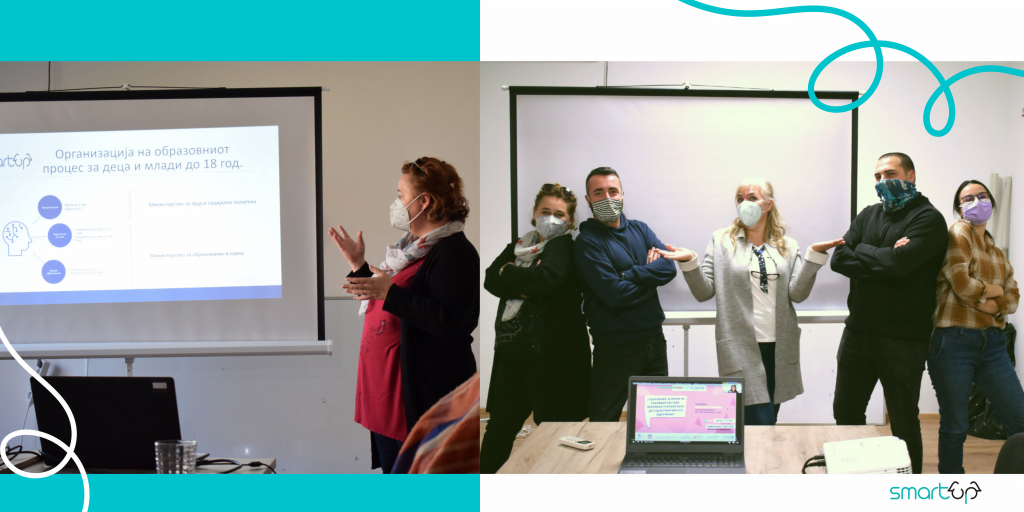 "Being part of SmartUp means being part of a slightly bigger family, in which each one is so different, and yet without each other, we cannot exist. A unique set of people from which you can literally "steal" knowledge from anyone. A family that bravely faces challenges and solves them together, leaving behind a lasting mark. I hope that we will celebrate many more successes and years together, achieving new goals and even greater successes." 
– Marija Kocevska, administrative assistant.
"Being a part of SmartUp for me means working with a brave and ambitious team that is always ready for new challenges and positive changes." – Milosh Sokolikj, service designer.
We are always on the lookout for new social innovation enthusiasts to join our team so make sure to check out the Opportunities/Calls segment in the news category on our site. Or feel free to shoot us a message via the contact us button. 
Let's make an impact together!