Introducing innovation to public sector government leaders in Bosnia and Herzegovina
In the second half of March 2022 SmartUp – Social Innovation Lab conducted a 'Public Sector Innovation' training programme in Bosnia and Herzegovina in partnership with Dark Matter Laboratories (UK) and Korimako (Slovenia). Organised by UNDP (BiH) and financed by the British Embassy Sarajevo and UK Aid, the training programme aimed to build the innovation capacities of the senior public sector leaders in BiH for implementation of more user-centred service and policies that respond to 21st century challenges.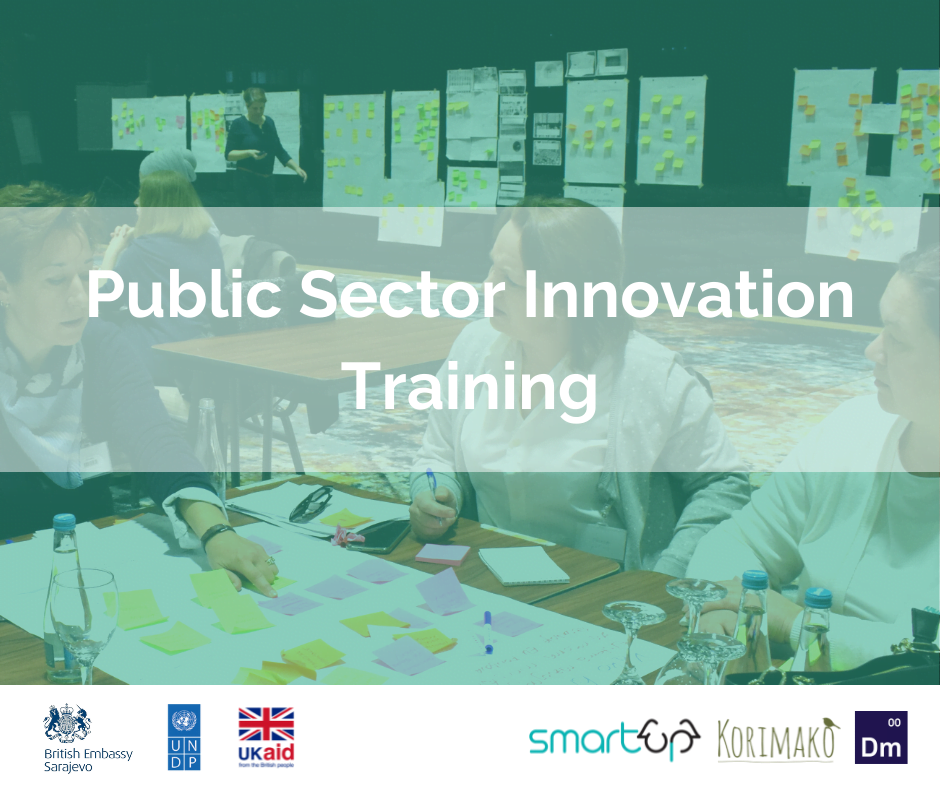 Bosnia and Herzegovina's public sector is a major employer and public expenditures (including state-owned enterprises) amount to more than 60 percent of GDP. With its resources and powers, governments – and the public sector at large – have the potential for contributing significantly to sustainable and inclusive growth by accelerating innovation. The ever-increasing expectations of the citizens, also calls for a more citizen focused service delivery and thus
widening the opportunities for innovation. However, the public sector innovation capabilities in BiH are almost nonexistent, while recent crises have shown the slow-paced adaptation and response of the public administration. The public training system in BiH does not offer any training to strengthen innovation thinking and skills, while so far none of the globally-deployed public sector innovation tools have been tested in the country. Based on the 2020 Global Innovation Index, Bosnia and Herzegovina ranks 74th among 131 countries.
To support the public sector in BiH in its efforts to become more innovative, user centred and inclusive the goal of this project/assignment was to design and deliver a public sector innovation training programme for senior policy leaders. Being the first training programme of this kind in Bosnia and Herzegovina, the aim of the programme was to identify and build capacities for innovation of a group of senior government leaders and present them with the opportunities provided by innovation in public sector work. More specifically, enhance their basic innovation capacity and skills, and introduce them with tools and methods enabling its practical application resulting in more democratic, effective and accountable governance.
The programme was designed in a way to enable more hands-on learning where participants would not only get familiarised with the principles for developing innovation, the process, the tools and the methods, but will also get to try and test them through the different stages of the innovation process.
Using the 'Design Thinking' methodology the goal was to ensure policy makers always put the user in the heart of the process when designing services/policies while still having the holistic view of the system in question.
Therefore, the program was a combination of three-day training – an introduction to innovation, two-day policy lab and a two-day Train of Trainers (ToT) training.
While the five-day programme (training and policy lab) was aimed more at introducing the participants to the innovation framework, drivers for and enables of change, the innovation process and tools through real life examples, the 'Train of Trainers' training aimed to develop and strengthen the capacities of a group of potential national public sectors representatives on how to design and lead innovation processes.
Many possible areas where changes are needed were identified, laying down a road map of where interventions should be made in the future to explore the innovation possibilities;
Strengthened the capacities of almost 70 people for innovation;
Developed 7 concept ideas that can be further developed as small pilots within public sector institutions;
An innovation guide was compiled and a YouTube playlist with videos (training recordings) was created covering the basic innovation concepts, to support the administration
A network of around 15 potential national experts was created that should drive this work further and support public sector organisations in BiH in their innovation efforts;
The challenge of incorporating innovation into the public sector is a complex one. It takes courage, drive, knowledge and skills to make it happen.
So, if you feel like you need support to start off a process or improve what you already have, feel free to get in touch with us and see if we can go that innovation path together ([email protected]).